Contrinex - Sense More, Do More
Contrinex UK Ltd is a wholly owned subsidiary of the Swiss-based, family-owned leader in factory automation sensors, Contrinex SA.
CONTRINEX – SENSE MORE, DO MORE
INDUCTIVE SENSORS – As the World leader in inductive sensors, we provide the greatest choice for your application, including the World's smallest inductive sensors at Ø3mm, and our uniquely robust 'Extreme' 700 Series inductive sensors which are capable of surviving abrasion and impact damage to live longer than any competitor.
Watch this VIDEO to see our stainless-steel inductive survive a 'hammering', and imagine the reduction in machine downtime and cost savings you can achieve.
PHOTOELECTRIC SENSORS – We manufacture sensors ranging from low-cost/high-performance cylindrical and cubic sensors with IO-Link for general detection, to our unique transparent-object detection sensors which use Ultra-Violet light to provide astonishingly reliable detection. Our Light-grids provide measurement or detection at long-distance at fine resolutions; our exceptional colour, contrast and distance-measurement sensors are trusted for their precision; and our vast array of miniature and fibre-optic sensors are used in a vast number of applications.
Watch this VIDEO for a novel application of our miniature photoelectric sensors.
RFID - Our extensive RFID offering includes our HF (High-Frequency) family which fulfils ISO/IEC 15693 and hence is compatible with other manufacturers, whilst offering benefits such as high-temperature and robust tags, IO-Link Read/Write modules and USB Read/Write modules.
Our unique LF (Low-Frequency) system is exceptionally robust and offers stainless-steel Read/Write modules with the option of metal-encased tags in an RFID system designed to excel in environmentally harsh and metal-filled environments.
Watch this VIDEO to see our high-temperature tags survive a 'toasting'.
ULTRASONIC SENSORS – Diffuse & Reflex sensing technologies provide non-contact detection of solid, liquid, granular or powdered materials. Robustness and high-performance provide reliable operation in the humid, dust and fume-filled environments sensing coloured, transparent, polished or matt target materials.
MACHINE SAFETY - Our extensive Machine Safety product range includes robust access-control light guards, and a choice of slim or robust light curtains to protect machine operators. Our machine safety sensors offer an innovative RFID coding as well as magnetic coding.
Please call 0121 58 222 58, email [email protected], visit www.contrinex.com, or download our catalogue from http://tiny.cc/CTX_Cat to find out more.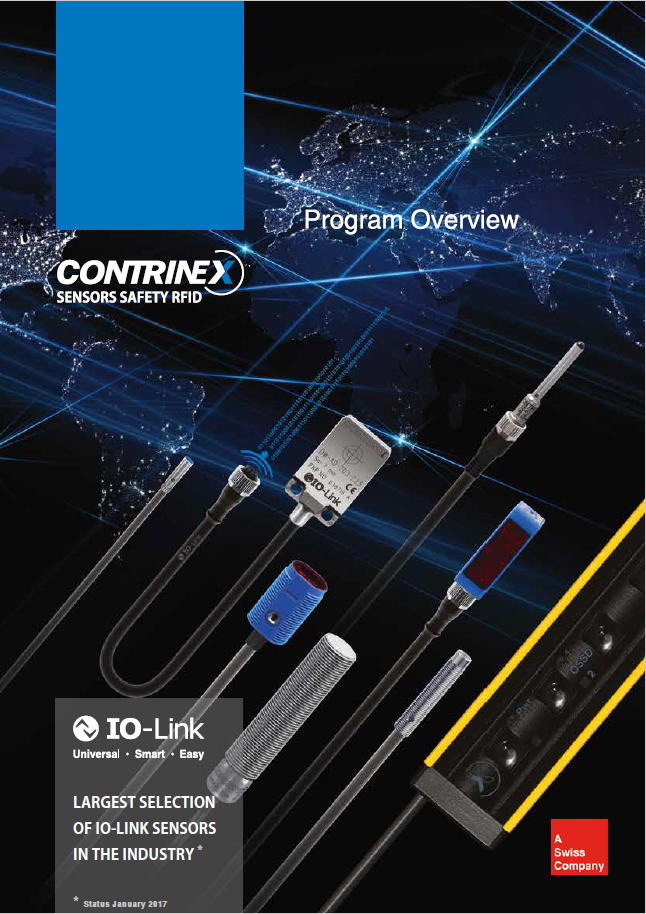 The Contrinex UK Ltd Team
Call or email us to see how Continex can help you sense more & do more
Customer
Service
0121 582 0835
Technical
Support
0121 58 222 58
Contrinex UK Ltd's Made Interview
A humorous look at Contrinex's robust inductive sensors
Basic range includes new, M30 inductive sensor with extended operating distance and IO-Link

Long-range photoelectric sensor counts shrink-wrapped carton packs during high-volume packing operations

Flexibility meets long distance; Rotatable C44 inductive sensors offer maximum mounting flexibility, long operating distances and IO-Link

Small photoelectric M18 sensors with IO-Link; Reflex, through-beam and diffuse sensors with or without background suppression

High-frequency RFID – FB library for extremely easy IO-Link integration with S7-PLC

Non-contact safety sensors with magnetic or RFID coding for door monitoring

Space-saving and robust; Safetinex Slim: Type 2 Safety light curtains for hand protection

New General Catalogue with complete Contrinex portfolio

Fast response time, high resolution and easy to install: Light grids are remarkably versatile

Rugged Washdown Inductive Sensors Monitor Position of Control Valves During Dairy-Product Processing

Full Inox Chip-Immune inductive sensors: Immune to fragments of iron, aluminum, stainless steel, brass, copper or titanium

Rugged inductive sensors prevent overloading of telescopic lifting arm on hooklift truck

Inductive Extra Distance - 4x Sensing Range

Short- or long-range photoelectric sensors for precise distance measurement

Miniature Inductive Sensor Accurately Detects Position of High-Speed Spindle

Extra Distance Inductive Sensors Detect Presence of Metal Washers in Plastic Assemblies

Rugged Inductive Sensors Detect Position of Demountable Container on Hooklift Trucks

Reliable detection of transparent objects; Photoelectric sensor uses UV light

Durability in harsh environments; Full Inox Extreme inductive sensors confirm engagement of safety locks on hooklift trucks

Miniature photoelectric sensors with IO-Link and Ecolab approval are ideal for hygienic manufacturing areas

C23 Full Inox inductive sensors maintain control in automated assembly

New! Safety Relay: High-speed safety relay allows shorter overall safety distances

Washdown sensors; food-grade inductive sensors withstand high-pressure cleaning

High-frequency RFID read/write modules with IO-Link!

Full Inox Miniature Inductives: Small, smart and indestructible

Classic Washdown Inductive sensors now available in classical housing type with IP69K protection

Rugged Inductive sensor detects position of forklift forks when opening container lid

Inductive Full Inox Washdown sensor provides speed monitoring for off-highway machinery

High pressure resistant inductive sensor for manual punch-riveting tool

Rugged inductive sensor measures rotation velocity of wind turbine blades

Cost-effective safeguarding with Safetinex Type 2 Safety Light Curtains

Fast checking whatever the sensor type & rechargeable battery

Reliable switching for tram system

Low & High -frequency RFID read/write modules with USB!

Conveyor position control in harsh environment

Accurate positioning of heavy-duty hydraulic cylinders on bridges